Scammell, Densham & Williams Law of Agricultural Holdings 10th ed with 1st Supplement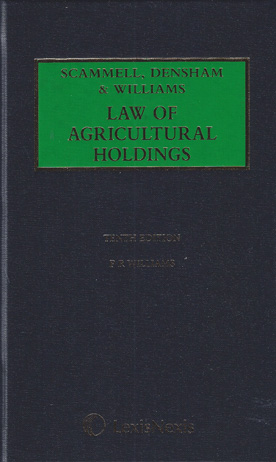 ISBN13: 9781474312301
Published: August 2018
Publisher: LexisNexis Butterworths
Country of Publication: UK
Format: Hardback & Supplement
Price: £443.00

The tenth edition of this definitive text provides practical analysis of the law of agricultural holdings in an authoritative and accessible manner. It contains a fully updated commentary on the Agricultural Tenancies Act 1995, taking into account all the changes since the previous edition. It also contains the full text of all relevant statutes and statutory instruments, as well as forms and precedents for both types of tenancy. There is also a section highlighting the Mid Term Review of the Common Agricultural Policy.
The 1st Supplement was published in August 2018
The Main Work was published in July 2015
Written by leading practitioners, in a convenient bound format, it is an indispensable reference to the law which will be helpful to lawyers, land agents and surveyors practising in this area.
What's New
New commentary on procedural rules for the First-tier Tribunal of the Property Chamber following the abolition of the Agricultural Land Tribunal in England.
A new detailed chapter on CRAR (the replacement for the old law of distress) as it applies to agricultural tenancies.
A reworked and updated chapter on remedies.
A new section on partnerships and joint ventures. Also, further commentary dealing with the volume of case law relating to such varied topics as succession and break clauses.
Arbitration explained for the 1996 act, as well as the newly in force provisions on third party determination under the Agricultural Holdings Act 1986 and arbitration options under the Agricultural Tenancies Act 1995.
A fully updated explanation of the Common Agricultural Policy.
Updated to reflect changes in the model clauses which will be brought into effect on 1 October 2015 by the Agriculture (Model Clauses for Fixed Equipment) (England) Regulations 2015.
Updated extracts of key statutory materials and a fully reviewed set of precedents.