Cook on Costs 2021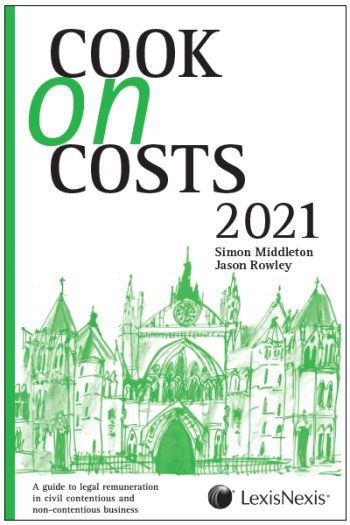 ISBN13: 9781474314527
Published: December 2020
Publisher: LexisNexis Butterworths
Country of Publication: UK
Format: Paperback
Price: £209.99

Nobody who wishes to understand the principles and practice of legal costs should be without a copy.
This well-established and practical title returns fully updated with legislative changes concerning every aspect of civil costs, providing concise and comprehensive commentary on costs developments as well as straightforward explanations of the remuneration of solicitors and barristers. Using a dual approach, the text both informs and guides you through all aspects of the costs of contentious and non-contentious legal business.
What's new for this year's edition?
The erosion of the 'Arkin cap' in non-party funding
The anticipated amendments to 'variation' and 'retrospection of budgets'
The recent decision in Rawbank that a claimant's Part 36 offering a discount of 0.3% constituted, in the circumstances, a genuine offer to settle
New cases on Damage Based Agreements and funding
Significant changes to the Detailed Assessment Procedure chapter including telephone, video and in-person hearings and the use of electronic documents
New commentary on the revised cost management provisions that came into being at the start of October