Tristram and Coote's Probate Practice 31st ed: 3rd Supplement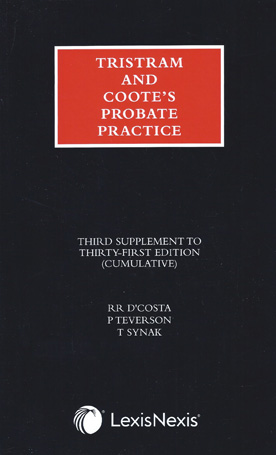 ISBN13: 9781474314664
Published: August 2019
Publisher: LexisNexis Butterworths
Country of Publication: UK
Format: Paperback
Price: £139.99

The third supplement to Tristram and Coote's Probate Practice ensures the set is completely up-to-date, covering all legislation, forms and procedures since the publication of the second supplement to the 31st edition. The authors provide a full update to all changes in case law, regulation and legislation since the publication of the 2nd supplement to the 31st edition in July 2018. Additions to the 3rd supplement include:
Updates to the practice and procedure following the commencement of the Non-Contentious Probate (Amendment) Rules 1987 (SI 2018/1137).
Replacement of precedent oath forms with statements of truth to accord with amended rules.
Current procedural developments in the Probate Service for dealing with applications for grants of representation.
Touches on the effect of the government's modernisation programme for the probate registries.
The application of the Disclosure Pilot to probate claims.
Recent case law on the Forfeiture Act 1982, claims under s.50 of the Administration of Justice Act 1985 and abuse of process involving probate proceedings.
Updated text to take account of Practice Direction 57AA-Business and Property Courts and PD 57AA.
The main form of Inheritance Tax account - the IHT 400 - has been updated to take into account recent Inheritance Tax legislation amendments.