Banks on Sentence 2023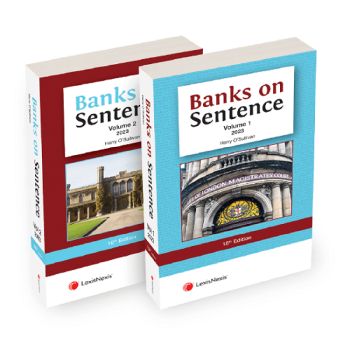 ISBN13: 9781474323604
Published: April 2023
Publisher: LexisNexis Butterworths
Country of Publication: UK
Format: Paperback, 2 Volumes
Price: £179.99

"The common pitfalls of everyday sentencing practice are avoidable by a few seconds' reference to the relevant section in Banks." - The Secret Barrister
Banks on Sentence is the definitive sentencing guide. It is used by judges, barristers and solicitors for sentencing hearings in the Magistrates' Court, Crown Court, Courts Martial and the Court of Appeal.
Volume 1 sets out the sentencing powers available to the Courts. It contains all relevant material to set complex and overlapping legislation in context. It includes procedure to be applied in sentencing hearings, including applications for behaviour orders and appeal hearings.
Volume 2 contains all the relevant guidelines, cases and sentencing material to enable judges, magistrates and practitioners to determine the sentence for almost all commonly prosecuted offences.
The 18th Edition includes:
Wide range of statutory amendments made by Police, Crime, Sentencing and Courts Act 2022 fully reflected including new criminal offences, increased maximum sentences, altered release arrangements and other minor legislative changes
Fully updated in line with commencement of doubling of magistrates' court powers to imprison offenders for either-way offences
New powers to remit for trial and sentence in the magistrates' court following commencement of the Judicial Review and Courts Act 2022
Updated and new sentencing guidelines, including for burglary and sexual offences involving children
Updated legislation providing for a range of ancillary orders: changes to Sexual Harm Prevention Orders, new powers to make Serious Violence Reduction Orders
Selected new authorities to illustrate likely sentence outcome for the most commonly prosecuted criminal offences