Cryptoassets for Private Clients: A Practitioner's Guide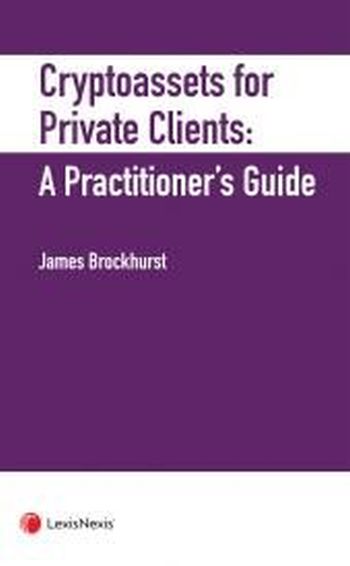 ISBN13: 9781474323628
Published: January 2023
Publisher: LexisNexis Butterworths
Country of Publication: UK
Format: Hardback
Price: £179.99

Cryptoassets for Private Clients is a practical and authoritative text for legal practitioners on the issues of cryptoassets and blockchain technology.
The innovation of blockchain as a mechanism for holding and transferring assets presents a range of legal and practical questions for lawyers, trustees, fiduciaries, and their clients. This book provides specialist, practical coverage of the answers that exist, and the problems that remain. James Brockhurst channels his years of practice in cryptoassets and his background in UK and international trusts and tax into this practitioner's guide, which includes:
A primer on cryptoassets and blockchain technology
In-depth coverage of the primary structures and forms of cryptoassets and their legal status
Practical chapters on smart contracts, Non-Fungible Tokens and Decentralised Finance
Insights on the practice of cryptoassets as they relate to trusts, estate planning, probate, and wills
Analysis of complex legal issues around cryptoassets, including tax considerations and private client regulation
Possession of cryptoassets is increasingly prevalent. Cryptoassets for Private Clients will provide practitioners with the information and resources to help their clients and expand into this growing area of law. Cryptoassets for Private Clients is therefore a must-read for all Private Client practitioners whose clients hold digital estates.
Featuring a foreword by David Neuberger, President of the Supreme Court of the United Kingdom 2012-2017.