Shakespeare and Judgment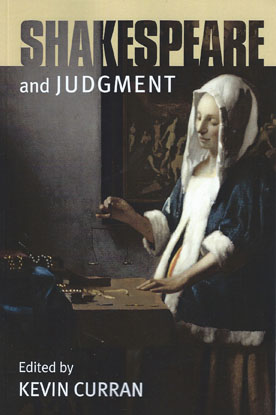 ISBN13: 9781474431613
Published: February 2018
Publisher: Edinburgh University Press
Country of Publication: Scotland
Format: Paperback
Price: £19.99

Shakespeare and Judgment gathers together an international group of scholars to address for the first time the place of judgment in Shakespearean drama.
Contributors approach the topic from a variety of cultural and theoretical perspectives, covering plays from across Shakespeare's career and from each of the genres in which he wrote. Anchoring the volume are two critical contentions:-
first, that attending to Shakespeare's treatment of judgment leads to fresh insights about the imaginative relationship between law, theater, and aesthetics in early modern England;
and second, that it offers new ways of putting the plays' historical and philosophical contexts into conversation.
Taken together, the essays in Shakespeare and Judgment offer a genuinely new account of the historical and intellectual coordinates of Shakespeare's plays. Building on current work in legal studies, religious studies, theater history, and critical theory, the volume will be of interest to a wide range of scholars working on Shakespeare and early modern drama.
Key Features:-
Provides the first account of the place of judgment in Shakespearean drama
Offers a fresh perspective on the imaginative relationship between law, religion, and aesthetics in Shakespeare's plays
Models new ways of putting the plays' historical and philosophical contexts into conversation3