The Shifting Meaning of Legal Certainty in Comparative and Transnational Law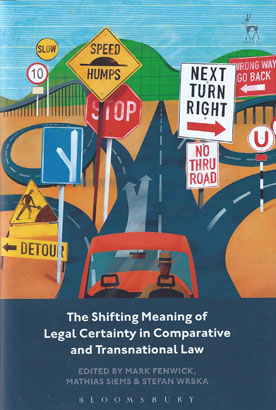 ISBN13: 9781509911257
Published: September 2017
Publisher: Hart Publishing
Country of Publication: UK
Format: Hardback
Price: £75.00

The principle of legal certainty is of fundamental importance for law and society: it has been vital in stabilising normative expectations and in providing a framework for social interaction, as well as defining the scope of individual freedom and political power. Even though it has not always been fully realised, legal certainty has also functioned as a normative ideal that has structured legal debates, both at the national and transnational level.
This book presents research from a range of substantive areas regarding the meaning, possibility and desirability of legal certainty in the context of a rapidly changing global society. It aims to address these issues by bringing together scholars from various jurisdictions in order to examine changes in the shifting meaning of legal certainty in a comparative and transnational context.
In particular, the book explores some of the tensions that now exist between the conventional expectation of legal certainty and the various challenges associated with regulating highly complex, late modern economies and societies.
The book will be of interest both to lawyers interested in understanding the transformation of core rule of law values in the context of contemporary social change, as well as political scientists and social theorists.