The Scope of the Enterprise: Liability for 'Joint Enterprise' Murder and Manslaughter After Jogee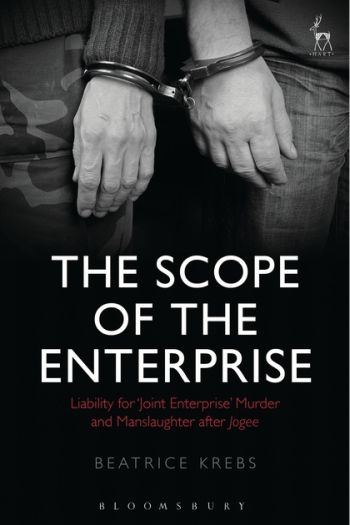 ISBN13: 9781509914807
To be Published: April 2021
Publisher: Hart Publishing
Country of Publication: UK
Format: Hardback
Price: £80.00

In R v Jogee the UK Supreme Court did not just abolish parasitic accessory liability, it also redrew the boundaries of murder and manslaughter in situations of multi-handed acts of escalating violence. This book considers what scope remains post-Jogee for charging parties to a crime A with murder for a death (crime B) caused by one of their associates, and when a conviction for manslaughter will be appropriate instead. In Jogee, the UK Supreme Court suggested that convictions in the paradigm cases of spontaneous group violence would be based on manslaughter by unlawful dangerous act.
The book will discuss whether manslaughter by recklessness or manslaughter by gross negligence are more appropriate in some scenarios, and how the principles of accessory liability can be combined so as to ground a manslaughter conviction in the first place. One problem the law currently faces is that offence elements that were shaped in the single offender context do not invariably lend themselves to application in multi-defendant contexts, and their use in typical joint enterprise scenarios might not be as straightforward as Jogee suggests. This is where the book's comparative analysis of German criminal law proves useful. German law has never known an inculpatory concept of parasitic accessory liability such as that now abolished by Jogee, but it has always faced problems with escalating group violence.
The book explores how English law can learn from the German experience, including from mistakes that were made in Germany along the way. The result is an original and topical monograph that will be of great value to academics and practitioners seeking to understand the changed landscape of UK criminal law post-Jogee.