Liability for Artificial Intelligence and the Internet of Things: Münster Colloquia on EU Law and the Digital Economy IV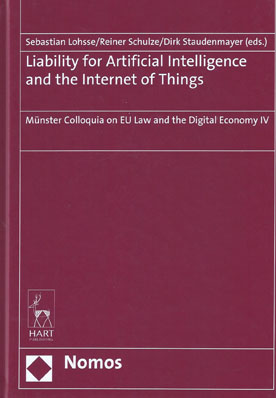 ISBN13: 9781509925858
Published: April 2019
Publisher: Hart Publishing
Country of Publication: UK
Format: Hardback
Price: £100.00

The year 2018 will feature a number of key developments in shaping the digital single market. Whereas some issues are now in the final stages of the legislative process, other key topics are in their infancy and therefore, in line with the objective of the Münster Colloquia on EU Law and the Digital Economy, require in-depth discussion as to how EU law should react to the challenges and needs of the digital economy.
The 2018 Münster colloquium will focus on an issue central to the digital single market: The "Liability for Robotics and in the Internet of Things". The European legislator faces the challenge to decide between adapting existing product liability rules or the creation of new concept of objective liability for autonomous systems.
The 2018 Münster colloquium will provide a forum for intense discussion of these questions between renowned experts on digital law, representatives from the EU institutions, and from industry.