The Law of Contract Damages 3rd ed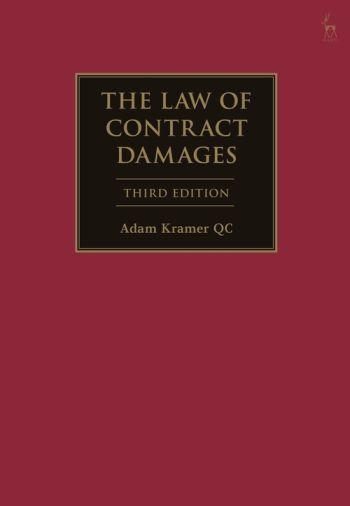 ISBN13: 9781509951253
Published: July 2022
Publisher: Hart Publishing
Country of Publication: UK
Format: Hardback
Price: £160.00

Praise for previous edition: '… very comprehensive; very competent; and, what I think will be seen as its chief virtue… very clear' – David Campbell, Law Quarterly Review
'I enjoyed… every part of this book. Mr Kramer's analyses are carefully developed and almost always useful and illuminating.' – Angela Swan, Canadian Business Law Journal
Written by a leading commercial barrister and academic, the third edition of this acclaimed book is the most comprehensive and detailed treatment available of this important dispute resolution area.
To aid understanding and practicality of use, the book is primarily arranged by the type of complaint, such as the mis-provision of services, the non-payment of money, or the temporary loss of use of property, but also includes sections on causation, remoteness and other general principles. At all points, the work gathers together the cases from all relevant contractual fields, both those usually considered­­ - construction, sale of goods, charterparties, professional services - and those less frequently covered in general works, such as SPAs, insurance, and landlord and tenant. It also refers to tort decisions where relevant, including full coverage of professional negligence damages, and gives detailed explanations of many practically important but often neglected areas, such as damages for lost management time and the proof of lost profits.
Previous editions are regularly cited by the courts; a hallmark of their authority. The third edition covers all key case law developments and updates since 2017 including Morris-Garner, Tiuta, Perry v Raleys, The Renos, Singularis v Daiwa and Edwards v Hugh James. The new edition expands on specific areas, reflecting their increased importance in litigation, for example how courts value companies and shares, scope of duty, and arbitration.
The book provides authoritative and insightful analysis of damages for breach of contract and is an essential resource for practitioners and scholars in commercial law and other contractual fields.