Making Laws That Work: How Laws Fail and How We Can Do Better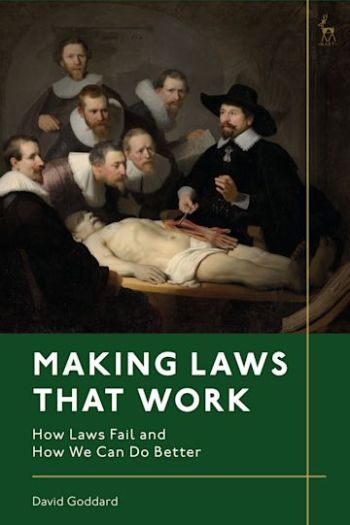 ISBN13: 9781509955367
Published: July 2022
Publisher: Hart Publishing
Country of Publication: UK
Format: Paperback
Price: £24.99

This book examines why laws fail and provides strategies for making laws that work.
Why do some laws fail? And how can we make laws that actually work? This helpful guide, written by a leading jurist, provides answers to these questions and gives practical strategies for law-making. It looks at a range of laws which have failed; the 'damp squibs' that achieve little or nothing in practice; laws that overshoot their policy goals; laws that produce nasty surprises; and laws that backfire, undermining the very goals they were intended to advance.
It goes on to examine some of the reasons why such failures occur, drawing on insights from psychology and economics, including the work of Kahneman and others on how humans develop narratives about the ways in which the world works and make predictions about the future. It provides strategies to reduce the risk of failure of legislative projects, including adopting a more structured and systematic approach to analysing the likely effects of the legislation; ensuring we identify the limits of our knowledge and the uncertainties of our predictions; and framing laws in a way that enables us to adjust the way they operate as new information becomes available or circumstances change.
Key themes include the importance of the institutions that administer the legislation, of default outcomes, and of the 'stickiness' of those defaults.
The book concludes with helpful checklists of questions to ask and issues to consider, which will be of benefit to anyone involved in designing legislation.