Macdonald's Exemption Clauses and Unfair Terms 3rd ed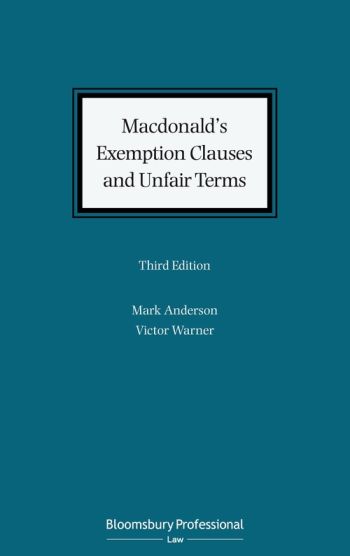 ISBN13: 9781526503718
Published: May 2022
Publisher: Bloomsbury Professional
Country of Publication: UK
Format: Hardback
Price: £275.00

An exemption clause is an agreement in a contract that stipulates that a party is limited or excluded from liability.
A term is unfair if:
it's contrary to good faith
it causes a significant imbalance in the rights and obligations of the parties to the detriment of the consumer.
Exemption clauses and unfair terms can be used unfairly and, sometimes, disadvantage a party and their use is regulated. The two main pieces of legislation regulating their use are:
1. The Unfair Terms Act 1977 which now only applies to liability arising in the course of a business and in relation to liability arising towards other businesses; and
2. The Consumer Rights Act 2015 consolidates the provisions that previously applied to consumers under the Unfair Contract Terms Act 1977 and the Unfair Terms in Consumer Contracts Regulations 1999.
Macdonald's Exemption Clauses and Unfair Terms is an expert analysis covering both the incorporation and construction of the key clauses and the relevant legislation.
Fully revised and updated, the new third edition will include coverage of:
the changes brought about by the Consumer Rights Act 2015 with a comparison of the Unfair Terms in Consumer Contracts Regulations 1999.
analysis and interpretation of case law which has considered the effect and interpretation of unfair terms since the 2nd edition such as: The Office of Fair Trading v Foxtons Ltd [2009] EWHC 1681 (Ch); The Office of Fair Trading v Ashbourne Management Services Ltd and Others [2011] EWHC 1237 (Ch); Case C–243/08 Pannon GSM Zrt v Erzsébet Sustikné Gyo?fi [2009] ECR I–04713; Case C–168/05, Elisa María Mostaza Claro v Centro Móvil Milenium SL [2006] ECR I-10421 and the CMA analysis of these cases).
analysis and interpretation of the significant amount of case law which has dealt with exemptions since the 2nd edition
analysis and interpretatipon of how the courts now interpret contract clauses after the decisions of the Supreme Court in Rainy Sky S. A. and others v Kookmin Bank [2011] UKSC 50 and Arnold v Britton [2015] UKSC 36