Conduct and Accountability in Financial Services: A Practical Guide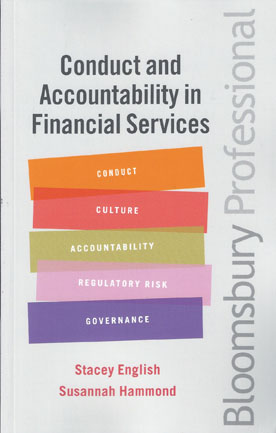 ISBN13: 9781526505200
Published: November 2018
Publisher: Bloomsbury Professional
Country of Publication: UK
Format: Paperback
Price: £55.00

The aftermath of the financial crisis sparked major changes in global financial services regulation. Following the immediate priorities to stabilise and repair firms' balance sheets and implement liquidity and capital reforms, regulators' attention and resources soon focused on the behaviour of firms.
In particular, senior individuals and how they conducted their business. It is widely acknowledged that culture and conduct are root causes of the financial crisis and regulatory reforms are being designed and implemented globally to address accountability and conduct in financial services.
Personal liability for senior managers in UK banks and insurers is practical reality and a very real concern to risk-takers and other senior individuals in financial services firms. Deeply practical, expert guidance is needed to help those individuals, and their firms, navigate not only the rule book requirements around personal liability but also the evolving perceptions around conduct risk and culture.
In theory regulators have always had the power to hold senior managers individually accountable but it was rare with regulators tending to fine firms rather than pursue individuals. That is changing.
The introduction of the Senior Managers and Certification Regimes (SMCR) in the UK in March 2016 was as a direct result of the financial crisis. Not only was there frustration that no senior individuals from banks were held accountable but there was also a desire to improve future risk-taking behaviours to ensure no repeat of the crisis. The increased personal accountability and liability for senior managers has focused the attention of all senior managers in financial services firms around the world as regulatory eyes are watching the UK to see the practical ramifications of the existing roll-out to banks and insurers with all UK regulated firms due to follow in 2018/9. All staff within financial services firms, regardless of seniority, will also be impacted by conduct rules and this guide covers the requirements and expectations which apply to all staff in the industry.
Conduct and Accountability in Financial Services: A Practical Guide is a practical guide that is an essential resource for all senior individuals in financial services. It is designed to help in the discharge of regulatory accountability and will ensure that all staff understand the regulatory expectations regarding their conduct.
The title includes visuals, graphics and examples throughout.