Internet Law in Ireland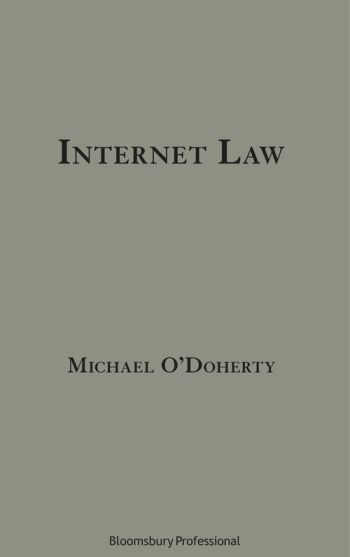 ISBN13: 9781526508010
Published: March 2020
Publisher: Bloomsbury Professional (Ireland)
Country of Publication: Ireland
Format: Hardback
Price: £173.00

Despatched in 5 to 7 days.
The law in Ireland regarding causes of action involving the internet is a rapidly growing area of law and litigation, this book examines such issues as defamation, data protection, e-commerce and intellectual property.
This book examines key pieces of legislation such as the EU General Data Protection Regulation and Defamation Act 2009; forthcoming legislation such as the Harmful Digital Communications Act; and the EU ePrivacy Regulation, which aims to ensure stronger privacy rules for all electronic communications.
Ireland has the European headquarters of many international IT and tech firms such as Google, Facebook, LinkedIn, Amazon and Twitter. As such, many of the key cases involving such firms are being played out in Irish courts, eg Schrems v Data Protection Commissioner.
Other key cases that this book considers are:
Data protection:
Savage v Data Protection Commissioner & Google Ireland [2016]/224CA/239CA (judgment of 9th February 2018) – the first Irish case to consider the seminal Google Spain judgment, in relation to the potential liability under data protection law of Google for the results generated by its search engine.
Defamation:
Monroe v Hopkins [2017] EWHC 433 – first UK case to consider at length defamation on Twitter, with an in-depth analysis of meaning, identification and how to assess the degree of publication via that medium. Also: Coleman v MGN [2012] IESC 20
Employment:
Barbulescu v Romania(ECHR Grand Chamber, 6 September 2017) – a significant judgment in relation to an employer's right to monitor the electronic communications of its employees, which overturned an earlier decision of the lower Chamber. Also: Reilly v Bank of Ireland [2015] IEHC 241
Copyright:
Sony Music v UPC [2016] IECA 231 – a Court of Appeal judgment on the duties of internet service providers to restrict the illegal downloading of copyright material by its customers.
Privacy/ Harassment:
CG v Facebook [2016] NICA 54 – Northern Ireland Court of Appeal considered the tort of harassment via social media, and the potential liability of Facebook for comments by one of its users post-notification that the alleged harassment was taking place.
Contract:
Meyer v. Uber Technologies, Inc. (US Court of Appeals, 16-2750-cv, 16-2752-cv, 17 August 2017) – a recent US Court of Appeal decision in relation to the prominence that must be given to terms and conditions when entering a contract via a mobile app. Also: Ryanair Ltd v Billigfluege.de GmbH/Ticket Point Reiseburo GmbH[2015] IESC 1