1KBW on Trusts in Matrimonial Finance Proceedings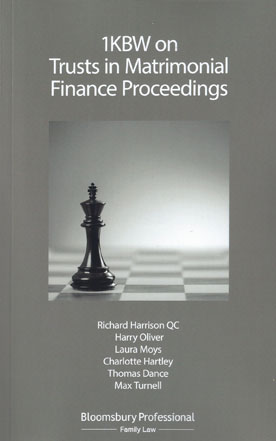 ISBN13: 9781526508058
Published: January 2019
Publisher: Bloomsbury Professional
Country of Publication: UK
Format: Paperback
Price: £85.00

1 KBW on Matrimonial Finance Disputes Involving Trusts seeks to provide practitioners with practical guidance on matrimonial finance disputes involving trusts.
Following the landmark decision of the House of Lords in White v White, courts are now required to test any proposed division of the parties' resources against a yardstick of equality in order to ensure that the outcome of the proceedings is fair to both parties.
There is therefore, a need in almost every case for the court to quantify the resources in the case, in order to assess the fairness of the outcome. Increasingly the courts have been confronted by circumstances in which the parties' resources are not held by them directly, but through corporate or trust structures, or sometimes a combination of the two.
When a matrimonial court is engaged in the process of quantifying the matrimonial assets, the existence of trusts can throw up a variety of issues which this text seeks to highlight and explain their impact.
Key legislation to be covered:-
Matrimonial Causes Act 1973
Insolvency Act 1986, s423
Family Procedure Rules 2010
1985 Hague Convention on the law Applicable to Trusts
Council Regulation (EC) No 2201/2003
Council Regulation (EC) No 1215/2015