Blockchain and Cryptocurrency: International Legal and Regulatory Challenges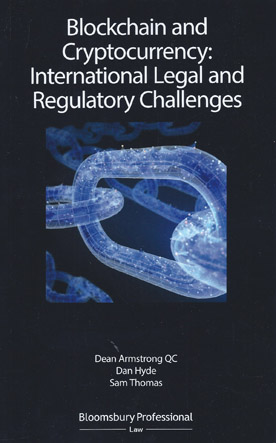 ISBN13: 9781526508379
Published: August 2019
Publisher: Bloomsbury Professional
Country of Publication: UK
Format: Paperback
Price: £100.00

As a result of the criticism of the way banks were looking after savings following the financial crisis of 2008, cryptocurrencies originated as an alternative digital currency system.
The first cryptocurrency, Bitcoin, was released in 2009 and whilst it is probably the most popular cryptocurrency, there are now approximately 1300 cryptocurrencies with a worth of £500 billion.
Blockchain is the payment processing technology underlying cryptocurrencies. All cryptocurrency transactions are saved in a blockchain in thousands of different places using a series of encryption techniques. No single party owns it, it is managed by a network of computers. Blockchain is considered as revolutionary and Lloyd's of London is currently trialling it for underwriting.
A large amount of services which are currently on traditional grids, eg power, water and other natural resources are susceptible to be built on blockchain and Blockchain and Cryptocurrency: A Guide to Legal and Regulatory Issues looks at the legal nature of digital registers and how their very nature could/will be regulated as their services become more important and "smart" cities are born.
Currently cryptocurrencies are not regulated by the Financial Conduct Authority (FCA) in the UK, but:
in March 2018 Mark Carney, governor of the Bank of England, demanded regulation to stop money being lost
at the beginning of April the FCA announced that it is working with the Bank of England and the UK Treasury on a discussion paper for cryptocurrencies. This paper will assess the potential risks and benefits bitcoin and alternative cryptocurrencies could bring to individuals, businesses and the Government. Guidelines on cryptocurrency policy are then due to be published later this year and could have global repercussions for how virtual currencies like bitcoin are regulated.
The emergence of blockchain in particular, and cryptocurrencies, challenge the existing order and, as these new forms of registration and currency become significant over the next few years, entrepreneurs will seek to exploit commercial opportunities. In turn, this will lead to regulation and litigation.
Disputes involving cryptocurrencies are on the rise. There are more traditional disputes, such as those involving cryptocurrency exchange disputes, and those that might be not be thought about such as divorce proceedings. Divorce lawyers are increasingly finding themselves needing to know how to figure out how to navigate the technical and legal issues surrounding cryptocurrencies as it has established itself as a new kind of asset class in divorce over the last nine years. This title examines how and where disputes might be resolved.
The importance of blockchain and cryptocurrencies within financial markets and as way of doing business is continually increasing and Blockchain and Cryptocurrency: A Guide to Legal and Regulatory Issues aims to identify regulatory gaps and establish the first applicable legal framework.