Mason's Forensic Medicine and the Law 7th ed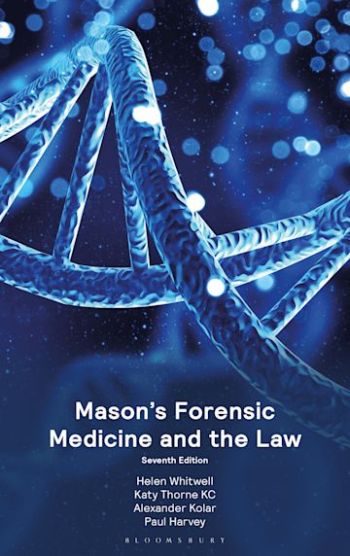 ISBN13: 9781526521323
Published: April 2023
Publisher: Bloomsbury Professional
Country of Publication: UK
Format: Paperback
Price: £130.00

Mason's Forensic Medicine covers all aspects of the relationship between forensic medicine and the law including an overview of general issues relating to medical ethics, criminal liability, negligence and the regulation of the medical profession. It considers each key stage from the reporting of the death to the investigation and diagnosis of the cause of death, detailing medical and legal considerations that must be taken into account. Each chapter begins with an explanation of basic medical issues including relevant anatomy, identifying controversies in the various forensic areas.
The seventh edition incorporates key developments both within law and medicine. There is an expansion of the practical and difficult issues for relevant practitioners in the legal setting. For example, key developments in the pathology of chronic traumatic encephalopathy (brain injury caused by head injury such as in footballers).
The seventh edition is divided into four sections:
Part 1-Introduction to Forensic Medicine
Part 2-Injuries and other relevant condition
Part 3-Allied Forensic disciplines
Part 4-Forensic Medicine and the legal system, to include section relating to legal aspects of public health in view of the current pandemic
It includes diagrams and overviews and points the reader to the relevant literature in both law and medicine. There are referrals to other texts- eg anatomy and clinical investigation together with use of appendices and a new chapter on DNA.
Essential reading for lawyers, police, crime scene investigators, forensic scientists, coroners and coroners officers. Medical practitioners and medical students would also find the text useful as a basic guide to legal issues.