Insolvency and Restructuring Manual 4th ed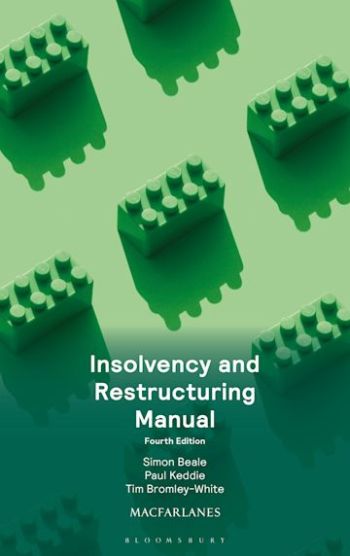 ISBN13: 9781526521446
Published: January 2023
Publisher: Bloomsbury Professional
Country of Publication: UK
Format: Paperback
Price: £115.00

Should you choose a formal insolvency or would a restructuring be more appropriate for a company's final steps?
Insolvency and Restructuring Manual (4th Ed) guides you through the considerations and steps in each avenue, examining the main formal processes including liquidation, administration, receivership, company voluntary arrangements and schemes of arrangement.
The new Fourth Edition covers:
The new Part 26A scheme of arrangement (or "restructuring plan"), standalone moratorium and provisions for the protection of supplies introduced by the Corporate Insolvency and Governance Act 2020
The forthcoming regulations concerning disposals by an administrator to connected persons
The Supreme Court decision in Sequana S.A. v BAT Industries Plc and others clarifying, among other things, when directors have a duty to creditors rather than shareholders
The legislative changes accompanying Brexit, their impact on cross-border matters and other important developments in case law relating to cross-border matters
The provisions of the Finance Act 2020 which restored the status of HMRC as a preferential creditor
The use of special managers in complex compulsory liquidations as seen, for example, in the cases of Carillion, British Steel and Thomas Cook
The Pensions Schemes Act 2021 and its possible impact on the restructuring landscape - The protocol on, and use of, 'rescue administration'
<[> Ease-of-reading is provided by bullet-pointed and highlighted text, flowcharts and tables.
Insolvency and Restructuring Manual
is an indispensable reference source for experienced practitioners and offers junior professionals, company directors and company secretaries a valuable first introduction to the subject.