A Practitioner's Guide to Correcting Mistakes in Pension Schemes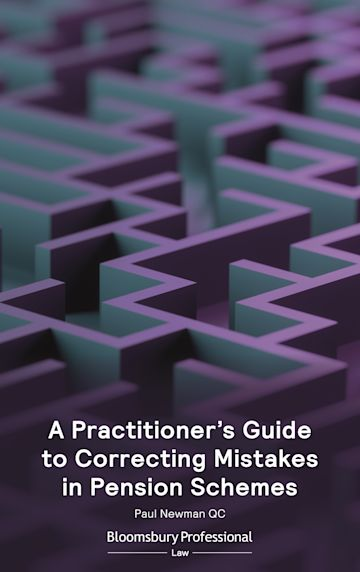 ISBN13: 9781526522702
Published: April 2022
Publisher: Bloomsbury Professional
Country of Publication: UK
Format: Paperback
Price: £120.00

The discovery of mistakes in pension scheme documents is as common as it is potentially serious for the administration of the scheme and for the sponsoring employer. The large sums invested in pension schemes mean that such mistakes are often very costly indeed.
This book provides a practical guide to the different methods available to correct commonly-occurring mistakes in the governing provisions of pension schemes. It combines a detailed review of the law with (where relevant) practical tips, including step-by-step analysis of the appropriate practice and procedure involved in each method of correction.
With a significant body of case law enabling more authoritative answers to be given to the legal issues affecting the correction of pension scheme mistakes, and more and more mistakes being discovered because of the move to secure pension scheme liabilities with insurance companies, trustees and employers need swift and accurate legal advice on what they can do to correct such mistakes. This book provides them and their legal advisers with that advice ensuring they do not make the same costly mistakes that others have made.