The Law of Evidence 7th ed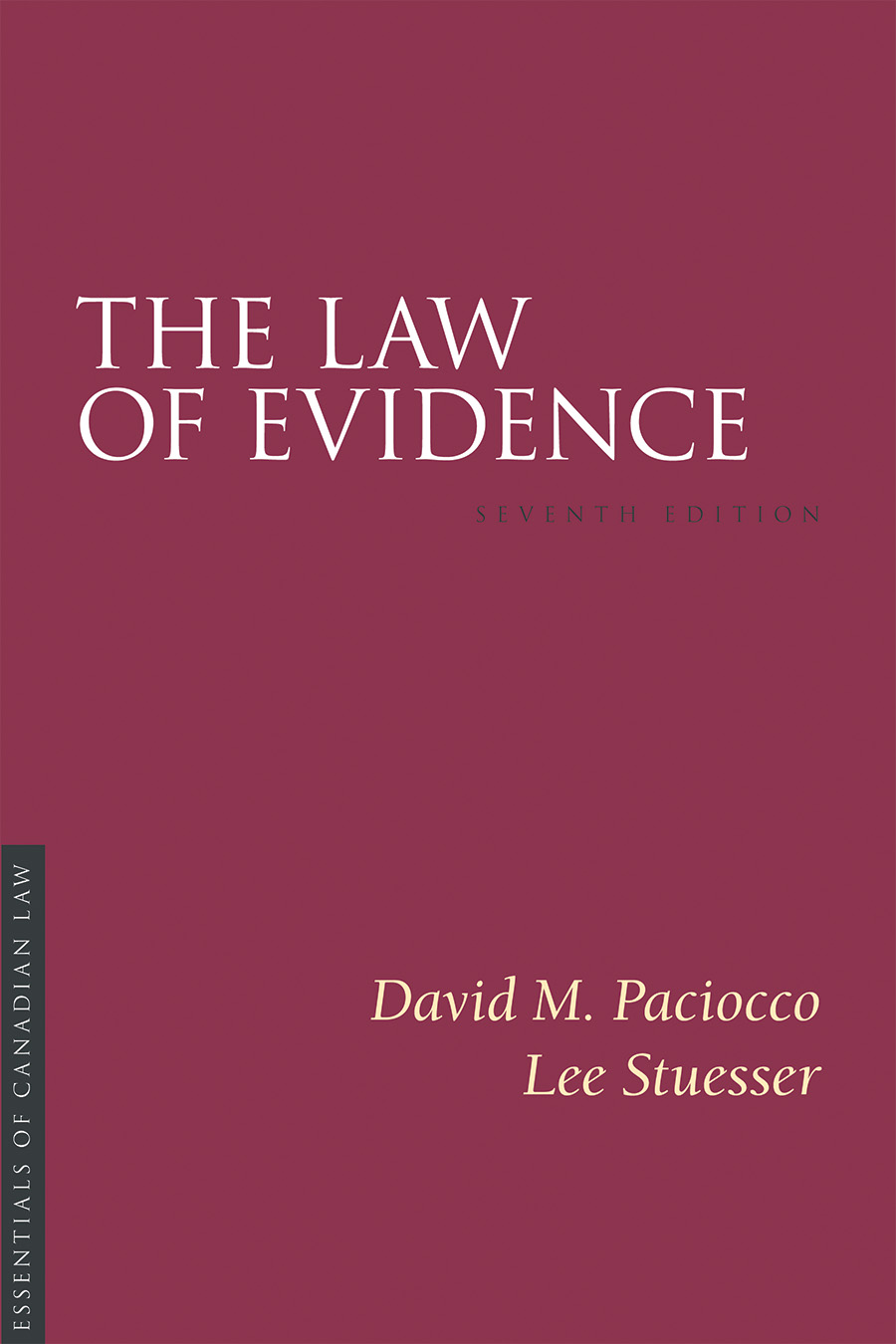 ISBN13: 9781552213865
Published: January 2015
Publisher: Irwin Law Inc
Country of Publication: Canada
Format: Paperback
Price: Price on Application

The Law of Evidence by David M. Paciocco and Lee Stuesser, is Canada's leading text in evidentiary law in both criminal and civil cases. For nearly two decades, it has been relied upon by judges, practitioners, and scholars both in the courtroom and in the classroom.
In the newest edition of this frequently cited book, the authors continue their practice of organizing, explaining, and illustrating the law of evidence clearly, simply, and practically. The seventh edition provides authoritative analyses of new cases as well as a fresh or an expanded examination of the most important topics in evidentiary law, including:-
the significance and manner of objecting to evidence;
consideration of credibility and reliability in the exercise of exclusionary discretion;
new discussion of the similar fact evidence rule incorporating the decision in R. v. Jesse and other appellate level decisions from across Canada;
explanation of the implied hearsay decision in R. v. Baldree;
new discussion of hearsay exceptions, incorporating relevant authorities including Brisco Estate v. Canadian Premier Life Insurance Company;
review of changes to expert evidence rules and the increasingly important issue of how courts deal with partial or dependent expert witnesses;
clarification of the principles of waiver;
review of important developments with the law of settlement privilege, the law of informer identity, and the law relating to the protection of third party records in sexual offences explanation of the "Fictitious Criminal Organization Rule" developed in R. v. Hart and the implications for the principled approach to self-incrimination;
discussion of the more aggressive use of the "obtained in a manner" prerequisite to exclusion illustrated in R. v. Archambault and R. v. Manchulenko;
analysis of the doctrine of discoverability as explored in R. v. Côté;
practical and clear descriptions of the rules that govern the way evidence is to be offered, and explanations of the impact of R. v. D.A.I. on the testimony of children, R. v. Ipeelee, on the law of judicial notice, and R. v. N.S. on the use of demeanour in assessing credibility;
new step-by-step procedures for the use of prior inconsistent statements under sections 9(1) and 9(2) of the Canada Evidence Act; and
discussion of new developments in identification cases, including R. v. Behre and R. v. Hay.