Typography for Lawyers: Essential Tools for Polished and Persuasive Documents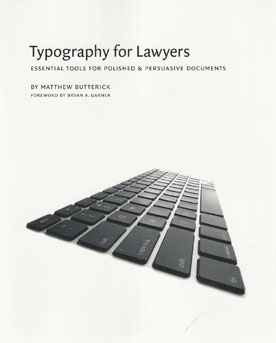 ISBN13: 9781598390773
Published: October 2010
Publisher: Jones McClure Publishing
Country of Publication: USA
Format: Papeerback
Price: £12.00
(Second Hand)

Based on the popular website, Typography for Lawyers is the first guide to the essentials of typography aimed specifically at lawyers.
Author Matthew Butterick, a Harvard-trained typographer and practicing attorney, dispels the myth that legal documents are incompatible with excellent typography. Butterick explains how to get professional results with the tools you already have — quickly and easily.
Topics include special keyboard characters, line length, point size, font choice, headings, and hyphenation. The book also includes tutorials on specific types of documents like résumés, research memos, and motions.