The RedBook: A Manual on Legal Style 5th ed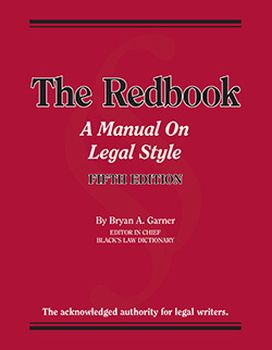 ISBN13: 9781642421439
Published: August 2023
Publisher: West Academic Publishing
Country of Publication: United States
Format: Spiral Bound
Price: £79.00

Since first appearing in 2002, Bryan A. Garner's legal-style manual The Redbook has established itself as the go-to source for all questions of legal writing (apart from citation form). The book isn't just the effort of a preeminent legal editor: Garner has enlisted not only his experienced team but also a group of 54 editorial advisers, most with long and valuable experience teaching LRW. The book is a one-of-a-kind resource-the legal writer's equivalent of The AP Stylebook or The Chicago Manual of Style.
The fifth edition has lots of new material, including updates relating to pronoun use (especially they) and questions of unconscious bias. The two exhaustive indexes (word and subject), plus the detailed table of contents, make it easy to find authoritative guidance within seconds-whatever the question might be.
The author, Bryan A. Garner, is now the most frequently cited writer in American judicial opinions. He has produced the past five editions of Black's Law Dictionary and is the co-author of Reading Law: The Interpretation of Legal Texts (with the late Justice Antonin Scalia). He has written more than 25 books that are widely relied on as authoritative.
You can rely on him, too, for the most comprehensive, nitty-gritty resource available to legal writers: The Redbook: A Manual of Legal Style. Whether you're preparing a brief, a contract, or a memo, don't circulate a draft without consulting the latest edition.