Administrative Redress In and Out of the Courts: Essays in Honour of Robin Creyke and John McMillan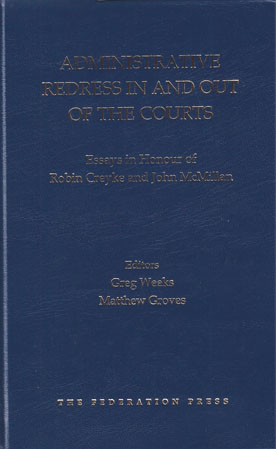 ISBN13: 9781760022020
Published: April 2019
Publisher: The Federation Press
Country of Publication: Australia
Format: Hardback
Price: £100.00

This collection of papers by some of Australia's leading judges, scholars and practitioners focuses on complex public law issues. The book examines executive power, judicial and tribunal review and integrity bodies like Ombudsmen.
The opening papers consider separation of powers issues. Justice Stephen Gageler asks if three arms of government remains a suitable model. Do we need a fourth? Greg Weeks' paper explains how bodies that would be in that fourth arm are vulnerable. Justice John Basten examines key questions between the executive and judiciary, while Justice John Griffiths considers those issues in visa cancellation decisions.
Other papers examine different accountability mechanisms – tribunals, Ombudsmen and information. Justice Janine Pritchard explains how litigation processes can obtain otherwise obscure material. Judith Bannister analyses what happens when governments fail to disclose information. Mark Aronson and Anita Stuhmcke each consider what happens when Ombudsmen get drawn into litigation and messy cases.
Other papers examine the work of tribunals. Graeme Hill examines the constitutional place of tribunals, especially in light of Burns v Corbett (2018). Linda Pearson explains when and how notions of evidence, proof and satisfaction operate in tribunals. Matthew Groves asks what happens when one of several members of tribunals and other bodies are biased – does the bias of one infect the others?
This book follows The Federation Press' edited works on public law – Key Issues in Public Law (2018) and Key Issues in Judicial Review (2014) by considering issues not examined in detail in existing works. The book is designed to fill a gap in court and chambers libraries, but also the collection of scholars and students of public law.