Chalmers' Marine Insurance Act 1906 11th ed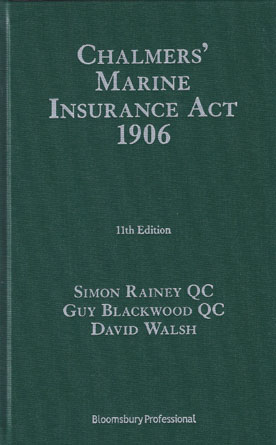 ISBN13: 9781780431253
Published: May 2019
Publisher: Bloomsbury Professional
Country of Publication: UK
Format: Hardback
Price: £175.00

Chalmers' Marine Insurance Act 1906 11th edition:-
Will be fully revised and updated by Simon Rainey QC, Guy Blackwood and David Walsh, all marine insurance practitioners at Quadrant Chambers and is an essential guide to the provisions of the Act
The new edition remains faithful to Chalmers' objectives when writing his 1901 Digest of The Law of Marine
Most if not all of Sir Mackenzie Chalmers' footnotes and annotations are preserved so that readers are able to see what he intended to achieve/codify in the Act, providing a full historical archive
Important cases since the 10th edition are included
What makes the book unique is the fact that it is far more than a piece of annotated legislation in that it includes case law with analysis and puts the decisions made in the individual cases into the context of Act. There is no other book or electronic service that does this.
As marine insurance is encompassed by the Marine Insurance Act 1906 this book provides the user with an unrivalled guide to, and understanding of how the Act has evolved and how it is implemented in practice. It is a desk top, every day reference tool for anyone involved in any of the aspects of marine insurance.
Important cases since the 10th edition such as The Cendor MOPU [2011] 1 Lloyd's Rep. 560, The Bunga Melati Dua [2011] 1 Lloyd's Rep. 338, The WD Fairway [2009] 2 Lloyd's Rep. 191, [2009] 2 Lloyd's Rep. 420 and The Jordan II [2005] 1 Lloyd's Rep. 57will be covered in the discussion on the relevant sections of the Act. These are just some of the more recent cases, but there has been a plethora of case law since the last edition published in 1993 which is covered such as The Resolute [2008] EWCA Civ 1314 and The Marina Iris [2005] SGHC 238.