Ireland and the European Convention on Human Rights: 60 Years and Beyond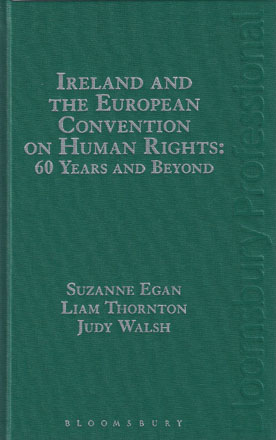 ISBN13: 9781780434728
Published: October 2014
Publisher: Bloomsbury Professional (Ireland)
Country of Publication: Ireland
Format: Hardback
Price: £181.00

Despatched in 6 to 8 days.
This title is the product of a conference hosted by a team of human rights academics at University College Dublin in June 2013 and features articles by leading Irish and international academic experts, practitioners and advocates in the human rights field.
The book 2013 marks the 60th anniversary of Ireland's ratification of the European Convention on Human Rights and the 10th anniversary of the Convention's incorporation into domestic law, by means of the ECHR Act 2003. It contains a wealth of essays and articles by leading experts which examine Ireland's engagement with the European Convention on Human Rights at international level down through the years as well as the extent to which the case law of the European Court of Human Rights has influenced domestic human rights law and administrative action through the vehicle of the 2003 Act. It analyses current Strasbourg jurisprudence on key issues and project its likely implications on law and policy in the Contracting States, with particular reference to Irish domestic law. 

The book addresses the difficult questions that arise for judges in both jurisdictions following the constitutionalisation of the European Union's Charter of Fundamental Rights in 2009 and the revised agreement of the EU's accession to the ECHR.
The impact of the ECHR in Irish law is a particularly rich subject for analysis, given the strong tradition of rights review by the Irish judiciary in interpreting the fundamental rights guarantees in the Irish Constitution. While the Irish statute is superficially similar to the Human Rights Act in the United Kingdom, the context in which it operates is radically different, given the pre-eminent role of the Irish Constitution in shaping domestic human rights law. As well as outlining the specific domestic context in which the ECHR operates in Ireland, the book also includes comparative insights from the United Kingdom context as to the impact of the Human Rights Act to date in that jurisdiction.
Additional themes of the book include the development of ECHR jurisprudence and its effects in the domestic setting on asylum, immigration, criminal justice, children, mental health patients, gender recognition and the limits and potential of the ECHR as regards combating poverty.