365 Daily Advocacy Tips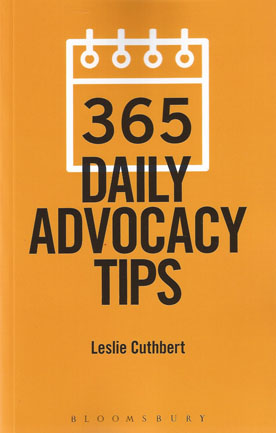 ISBN13: 9781780438320
Published: May 2015
Publisher: Bloomsbury Professional
Country of Publication: UK
Format: Paperback
Price: £29.00

Despatched in 6 to 8 days.
365 Daily Advocacy Tips provides advocates across all legal fields with useful and effective practical tips on advocacy skills as they have developed over the years, including the impact of psychology, to ensure that it is of relevance to current practice.
365 Daily Advocacy Tips is a text that all advocates, from beginner to experienced, can benefit from whether in civil, criminal or other proceedings. It is non-jurisdiction specific and relevant to advocates all over the world. The content includes a range of helpful quotes, points from psychology and also best practice points.
This text includes brief snippets of useful information that provide a wide range of interesting pointers and hints.
Unlike most texts on advocacy 365 Daily Advocacy Tips provides an insight to psychology and how to break down the rules of argument and rhetoric. It also covers acronyms to help remember techniques, useful quotes from history and literature that can be used in cases and references to other texts both legal and non-legal.
Examples of some of the tips that are included in this title are as follows
When questioning always remember to KISS: Keep it Short and Simple
In Cross-Examination aim to TELL the witness the answer you want rather than ASK for a response e.g. "You were at home, correct?" not "Were you at home?"
Never forget that correlation does not equal causation
Don't read out the entirety of your argument nor seek to memorise the totality of what you wish to convey. Instead a common helpful approach is to remember the introduction and the last paragraph. "Begin with the end in mind" is a useful concept to focus upon.
How an advocate dresses and presents themselves can be incredibly important. As one Judge puts it, "The burden of proof is on the advocate in the polyester suit".