Globalization and Its Impact on the Future of Human Rights and International Criminal Justice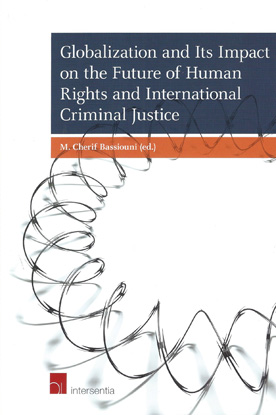 ISBN13: 9781780683300
Published: June 2015
Publisher: Intersentia Publishers
Country of Publication: UK
Format: Paperback
Price: £119.00

Usually despatched in 1 to 3 weeks.
Globalization is not a new phenomenon. New realities have emerged over the past two decades which have given it greater influence in the affairs of states. This coincided with the increasing inability of states and international organizations to carry out their institutional functions for the common good. This is testing a number of assumptions about the future of human rights and international criminal justice.
The changes in state priorities concerning human rights and international criminal justice evidence a subtle change in the values of the international community. This is particularly evident in the enhanced concerns of states with issues of national security as they are perceived in so many different ways. At the same time states' ability to govern and deliver public services are increasingly being challenged.
Science and technology dominate the present state of globalization and in some positive ways and have increased human interdependence and interconnectedness but with paradoxical positive and negative effects and outcomes.
They enhance the power and wealth of certain states while increasing the gap between those states and others. This gap between the "haves" and the "have nots" continues to increase. With world population projected to grow from seven to nine billion, with disproportionate availability of food and other resources for those most in need of it, social, economic and political disparities are enhanced. Internal state dysfunction is on the increase as evidenced by the number of failed and failing states among developing and under-developed societies.
Globalization has not only enhanced the power and wealth of certain states with resources and technological, including military capabilities, it has also given these states a claim of exceptionalism. That claim has also extended to certain multinational corporations and other non-state actors (NSAs) because of their wealth, worldwide activities, and their economic and political power and influence over national and international institutions.
For all practical purposes, many of these multinational entities have become beyond the reach of the law, whether national or international. As a result they and their principal actors benefit from impunity notwithstanding the harmful consequences of their conduct on human beings and on the environment. Environmental changes resulting from the international community's failure to develop and adequate system of control over fossil fuel consumption and other factors impacting climate change have and will continue to unleash harmful consequences on certain parts of the world, which will impact certain populations.
As these and other negative consequences of globalization occur, it is already evident that the values and legal protections afforded to human rights, including an end to impunity for international crimes is receding. The "Responsibility to Protect," adopted by world summit of 2005 has never been put into effect. Similarly, the United Nations Declaration on the Rights of Victims of Crime has also never been put into effect.
How states and the international community will react in the face of the forthcoming challenges of population growth, resource scarcity, environmental disasters and other natural and human tragedies is a legitimate source of concern.
The absence of an international system to regulate these needs for human survivability will necessarily mean that the human rights of some will be sacrificed. All this has negative consequences for human rights, yet nothing that the international system presently offers can mitigate these consequences – only the occasional good will of some states.
What remains to help counteract and mitigate the cascade of negative effects and outcomes of unbridled globalization on our planet are international civil society institutions and some concerned states. What they may be capable of achieving in the face of the changing landscape of the world order is, however, difficult to assess.