Andrews on Civil Processes 2nd ed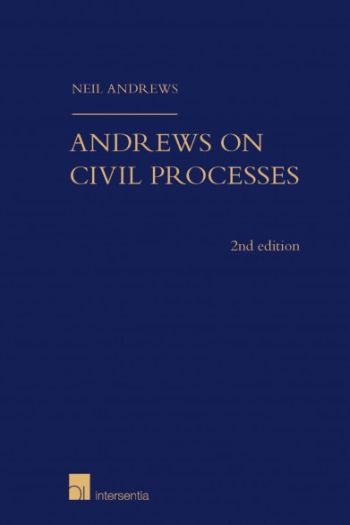 ISBN13: 9781780686844
Published: April 2019
Publisher: Larcier Intersentia Publishers
Country of Publication: UK
Format: Hardback
Price: £258.00

Andrews on Civil Processes is a fresh and stimulating examination of Civil Justice, embracing court proceedings, mediation, and arbitration. A critical and principled treatment of the subject made possible by extensive knowledge not only in the English methods and techniques but also in foreign civil procedural laws.
The work guides the reader through the practice of dispute resolution in all its major forms - public and private, adjudicative and conciliatory – and thus provides a complete picture of the court and arbitration systems, and of the developing technique of mediation. It is an outward-looking work and advisors seeking further leads are assisted by detailed citation of primary sources and rich bibliographical references to national and foreign works.
As a fundamental and systematic treatment of the subject by a leading expert, this fully revised and updated 2nd edition is an essential work of reference for litigation advisors, judges, commentators, and students. As many non-resident parties choose to conduct arbitration in London or bring proceedings before the English High Court, notably the Commercial Court, the clear and well-ordered structure of Andrews of Civil Process is also of interest to the lawyers beyond England and Wales.