Competition Damages Actions in the EU : Law and Practice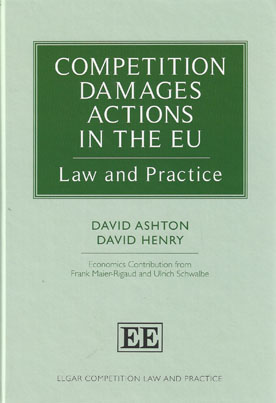 ISBN13: 9781782540755
Published: December 2013
Publisher: Edward Elgar Publishing Limited
Country of Publication: UK
Format: Hardback
Price: Out of print

Competition Damages Actions in the EU offers a clear and concise analysis of the latest case law, legislation and policy documentation in the field of damages actions for breach of EU competition law.
Highly topical, the authors explore the problems of indirect purchaser standing and passing-on, evidentiary issues such as access to documents, and questions of jurisdiction and applicable law in claims based on an infringement of EU competition law.
A rich and detailed synthesis of EU and Member State law relating to antitrust damages actions and developments pertaining thereto, this thorough exposition will be an invaluable resource for practitioners at all levels - from lawyers in private practice, to judges in the Member States and competition enforcement officials.
Being the first to offer a detailed analysis of damages in the context of the new proposals, this book will also appeal to students and scholars of EU law in general, including EU competition law.
Key features of this innovative book include:-
First major substantive volume looking at actions for damages under EU competition law since the Commission's proposal
Examination of the difficulties inherent in competition law litigation
Investigation into the concept of collective action as a controversial phenomenon
Thorough treatment of the key substantive issues
Comprehensive yet accessible text from an experiential viewpoint
Key section on the quantification of damages in the context of competition law infringements, written by specialist economists Frank Maier-Rigaud and Ulrich Schwalbe.