Advanced Introduction to Law and Development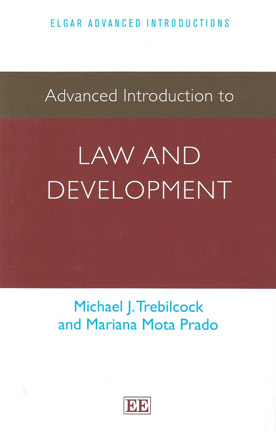 ISBN13: 9781783473397
Published: September 2014
Publisher: Edward Elgar Publishing Limited
Country of Publication: UK
Format: Paperback
Price: £17.95

Elgar Advanced Introductions are stimulating and thoughtful introductions to major fields in the social sciences and law, expertly written by some of the world's leading scholars. Designed to be accessible yet rigorous, they offer concise and lucid surveys of the substantive and policy issues associated with discrete subject areas.
This book offers a concise and accessible introduction to the main themes and debates in the field of Law and Development. It unpacks the role of legal systems and institutions, and investigates what kinds of law and legal arrangements are perceived (correctly or not) to encourage and facilitate development.
Starting with a clear and readable overview of the key concepts and theories of development, the authors probe the issues which arise in both private law and public law as well as in international economic relations. The book also brings in key debates relating to politics and identity – especially highlighting gender and development as a topic that poses some of the biggest challenges for institutional conceptions of development.
Written with the insight of two experts in the field, this unique book covers the most recent trends in Law and Development research and points out key topics that remain underexplored. It will be essential reading for students, practitioners and policy-makers needing to quickly gain an understanding of the core principles of this multi-faceted topic.