Assessment of Mental Capacity: A Practical Guide for Doctors and Lawyers 4th ed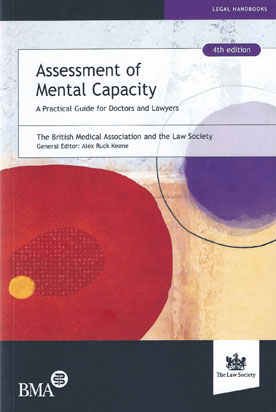 ISBN13: 9781784460389
Published: October 2015
Publisher: Law Society Publishing
Country of Publication: UK
Format: Paperback
Price: Out of print

The implementation of the Mental Capacity Act 2005 has been found by a House of Lords Select Committee to suffer from a lack of awareness and understanding among professionals, and consequently from failure to follow the duties imposed on them by the Act. This book aims to support doctors and lawyers by giving them:-
a fuller understanding of the law in all situations where an assessment of capacity may be needed
clarification of the roles of both professions
an aid to communication both between them and with the person being assessed.
Written by experts from a variety of disciplines, this book combines a precise statement of the law with a practical, jargon-free approach to provide guidelines on a range of issues, from capacity to form intimate personal relationships to capacity to consent to medical treatment. The fourth edition has been updated and expanded to take account of:


recent case law
revision of the Mental Health Act 1983: Code of Practice
the rising prominence of the United Nations Convention on the Rights of Persons with Disabilities
current good practice.
It provides an essential source of guidelines and information, including extracts from the Act and the Code of Practice and is an indispensable tool for health and legal professionals.