The Law Society's Conveyancing Handbook 30th ed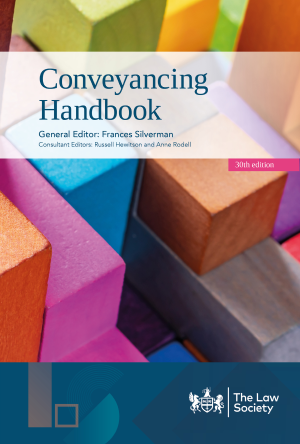 ISBN13: 9781784462109
Published: October 2023
Publisher: Law Society Publishing
Country of Publication: UK
Format: Hardback
Price: £130.00

The Conveyancing Handbook has been a trusted first port of call for thousands of practitioners for over 30 years. This year's edition has been extensively updated to include the latest guidance on good practice in residential conveyancing and is a crucial resource for answering queries arising from day-to-day property transactions.
The 30th edition includes new and updated guidance on:
Building Safety Act 2022, Fire Safety Act 2021, and Product Security and Telecommunications Infrastructure Act 2022
money laundering reforms and Economic Crime (Transparency and Enforcement) Act 2022 mortgage fraud
impact of Homes (Fitness for Human Habitation) Act 2018 on both landlords and tenants changes to legislation on leasehold, ground rents and shorthold tenancies and changes to commonhold
indexation of rents and service charges
SRA regulatory changes and guidance on undertakings
VAT, SDLT and LTT
Law Society Practice Note on climate change
new Homes Code/New Homes Ombudsman
This new edition includes a new section on modern auctions.
Throughout the book reference is made at appropriate points to the SRA Standards and Regulations, The Law Society Conveyancing Protocol (2019), the Standard Conditions of Sale and Code for Completion.
Appendices include Law Society protocol, codes and formulae; and other Law Society practice information, including revised COVID-19 industry guidance.