The Board Secretary's Handbook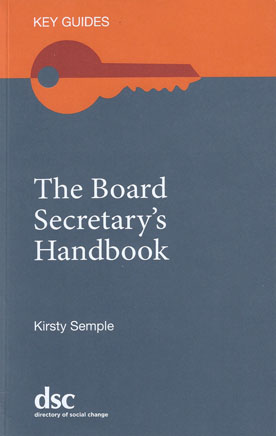 ISBN13: 9781784820091
Published: October 2018
Publisher: Directory of Social Change
Country of Publication: UK
Format: Paperback
Price: £24.95

The role of board secretary in the voluntary sector is often one which is additional to other responsibilities — you may have inherited it as part of your current responsibilities or subsequently had it tacked on to your main role.
Either way it can be an area which is vitally important but can be a minefield for the uninitiated and where expert guidance is essential.
This handbook tells you what a board secretary is and why you need one. It explains the roles, duties and responsibilities depending on your type of organisation and how an effective board and robust governance depends on having a top board secretary.
It tell you everything you need to know about:
how your organisation is set up and structured
how to constitute board meetings
how to make resolutions and decisions
how to record such decisions all in accordance with the law and best practice
Thorough on the law but practical on the application and with an invaluable series of checklists, with this book your job suddenly got that much easier.