Essential Texts in International Law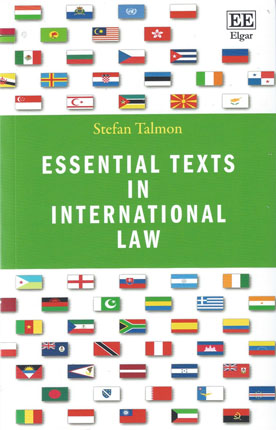 ISBN13: 9781785366574
Published: August 2016
Publisher: Edward Elgar Publishing Limited
Country of Publication: UK
Format: Paperback
Price: £16.95

Essential Texts in International Law draws together the most important documents needed for the study of international law in a uniquely handy, user-friendly format.
Unlike most other texts of this nature, the documents are organised according to subject matter for ease of reference: United Nations and International Peace and Security; State Transactions; State Immunity; State Responsibility; Diplomatic Relations; Economic Relations; Land, Sea, Air and Space; Human Rights; the Environment; and International Criminal Law.
Each document has been allocated a unique number, which facilitates navigation for use in the classroom, and is complemented by a detailed subject index.
Key features:
Concise but authoritative selection of the essential texts makes this focussed and user-friendly
Intuitive organisation of documents by subject
Unique reference number for each document facilitates navigation
Small, handy reference format for carrying to class