Public Procurement and Human Rights: Opportunities, Risks and Dilemmas for the State as Buyer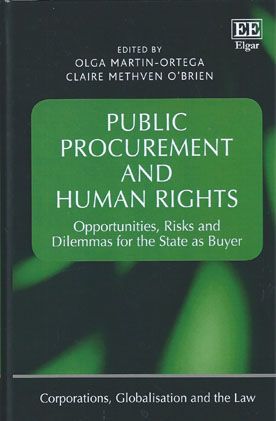 ISBN13: 9781788116305
Published: May 2019
Publisher: Edward Elgar Publishing Limited
Country of Publication: UK
Format: Hardback
Price: £90.00

Important new policy frameworks call on governments to ensure respect for human rights by businesses and to secure a transition to sustainable consumption.
Public procurement accounts for a significant share of the global economy, and nearly 30% of government expenditure across OECD countries. But what are the obligations of the state to protect human rights when it acts as a buyer? And how can procurement be used to drive respect for human rights amongst government suppliers? This engaging book reflects on these important questions, from the dual disciplinary perspectives of public procurement and human rights.
Through legal analysis and practice-focused case studies, the expert contributors interrogate the role and potential of public procurement as a driver for responsible business conduct. Highlighting the character of public procurement as an interface for multiple normative regimes and competing policies, the book advances a compelling case for a shift to a new paradigm of sustainable procurement that embraces human rights as crucial to realising international policies such as those embodied in the UN Guiding Principles on Business and Human Rights and 2030 Sustainable Development Goals.
Topical and thought-provoking, Public Procurement and Human Rights will be an essential read for academics and students of human rights law, public procurement law, and business and human rights, as well as practitioners in public procurement and sustainability, and government officials.