Legal Professional Privilege: Law & Theory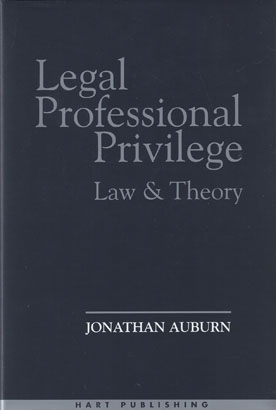 ISBN13: 9781841131016
ISBN: 1841131016
Published: June 2000
Publisher: Hart Publishing
Country of Publication: UK
Format: Hardback
Price: £75.00

Despatched in 4 to 6 days.
In the Commonwealth, the principle of legal professional privilege (""the privilege"") has been treated as almost sacrosanct and in consequence, derogations from it have been rare.
The traditional view that, despite resulting unfairness, the rule must be absolute in order to achieve its stated goals is challenged here through an examination of the theoretical structure of and common law derogations from the privilege.
The author argues that the claims made of the rule in the past have been overstated and that the privilege is more robust than widely assumed. Being dependent on patterns of client behaviour, it can accommodate change, while still fulfilling its essential function. Having examined the theory, structure and main derogations from the privilege, Auburn asserts that we should be more sceptical of the claims made of the privilege, and in appropriate circumstances should give more weight to the values underlying the disclosure of evidence.
This analysis presents a new approach to the issue of legal professional privilege. It offers a thorough exploration of the principles underlying the privilege and, while not being an exhaustive analysis of all aspects of the rule, it is unusual in that it takes a Commonwealth-wide approach, covering the law in England, Australia, Canada, New Zealand and South Africa, as well as drawing on relevant principles from European and United States law.