21st Century Solicitor: How to Make a Real Impact as a Junior Commercial Lawyer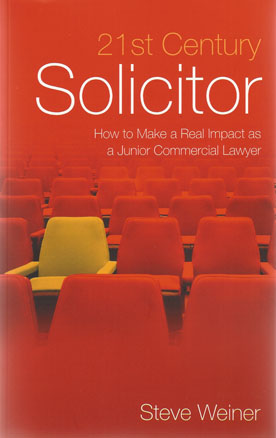 ISBN13: 9781841133553
Published: October 2011
Publisher: Hart Publishing
Country of Publication: UK
Format: Paperback
Price: £19.99

This candid, no-nonsense guide to excelling as a commercial lawyer offers a frank and forthright look at the modern solicitors' profession. Its aim is to advise those who seek to make a career out of commercial lawyering, and goes far beyond the common-sense guidance found in other current texts.
This is an honest, punchy and up-to-the-minute look at how to succeed early on in the profession, by an author who offers a unique combination of experience as a practitioner, trainer and law firm voyeur. The book takes into account the vast changes that the profession has undergone during the past few years. No longer is success in the law dependent on technical aptitude alone.
While good solicitors undoubtedly have to be able to understand and apply the law, to achieve success they must also master a range of what used to be called 'soft skills'. Taking this into account, the book explores every facet of what makes a modern, successful solicitor, concentrating in particular on personal branding and recognising the importance of self-awareness when working in a law firm.
It surfs lightly through theory, concentrating on practical and easily accessible hints and tips for young solicitors wanting to make a positive, lasting impression from day one.