Using a Law Library: A Student's Guide to Legal Research Skills 2nd ed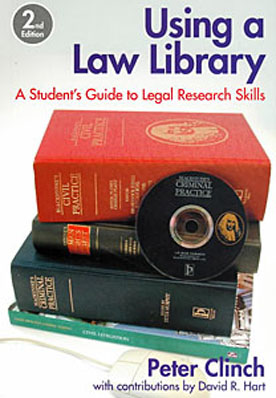 ISBN13: 9781841740294
ISBN: 1841740292
Published: January 2001
Publisher: Oxford University Press
Country of Publication: UK
Format: Paperback
Price: £47.99

The ability to undertake effective legal research is one of the basic skills required of a lawyer. Yet all too often students only acquire this skill by trial and error, failing to grasp the essentials of legal research at an early stage in their studies.
This second edition not only describes the literature of law for England, Wales and the European Community, but also includes information and techniques on researching the law of Scotland and European human rights law. It also features information on the sources of law being created by the newly devolved legislatures in Scotland and Wales
The book provides advice on using a law library and how to make effective use of catalogues and indexes. Its practical approach will help students undertake particular research problems, and it shows how to record and present the results of research in projects, dissertations and theses.
The information is presented under standard headings, with diagrams and charts provided where possible to aid in the practical use of complex publications. The whole range of modern electronic sources is also explained.