International Carriage of Goods by Road: CMR 4th ed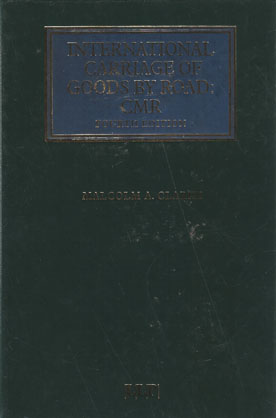 ISBN13: 9781843112204
ISBN: 1843112205
Published: March 2003
Publisher: Informa Law from Routledge
Country of Publication: UK
Format: Hardback
Price: Out of print

Out of Print
This leading work analyses the international carriage of goods by road under the provisions of the CMR. Part one provides an up-to-date analysis of the international carriage of goods by road in Europe, the Middle East and east of Russia, and part two concerns English common law on the carriage of goods within the United Kingdom - the text was expanded in this way to meet the need of both English carriers and also their foreign counterparts.
The new editon has been expanded to cover areas such as causation, unavoidable circumstances, compensation for charges incurred, and wilful misconduct. Also covered are significant decisions of the UK Courts such as Gefco v Mason (1998) on umbrella contracts and in particular the Quantum case (2002) on the vexed issue of disputes arising out of intermodal contracts. Gefco v Mason and Andrea Merzario v Leitner (2001) show the evolution of the Court of Appeal to the interpretation of international Conventions such as CMR. Latest decisions of the highest courts in other jurisdictions including the Bundesgerichtshof in Germany and the Cour de Cassation in France are also covered.
Part II covers English national law on the carriage of goods by road with references to BIFA Standard Trading Conditions in their 2000 version, as well as the RHA Conditions in their 1998 version. It also includes the latest developments in the law of contract and tort including good faith, The Limitation Act (Glaister v Greenwood(2001)), Conversion (Kuwaiti Airways v Iraqi Airways(2002)). Also included is discussion of the impact of the Contracts (Rights of Third Parties) Act 1999 on rights of action against the carrier of goods The appendix includes the text of the CMR annotated.