Time Charters 6th ed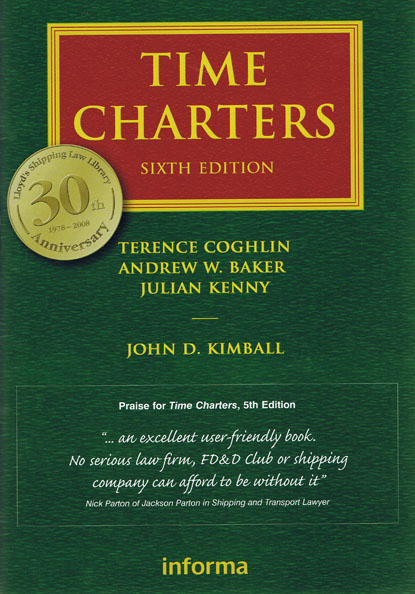 ISBN13: 9781843117513
Published: September 2008
Publisher: Informa Law from Routledge
Country of Publication: UK
Format: Hardback
Price: £125.00
(Second Hand)

Wildy's Book of the Month - October 2008
Acclaimed as the standard reference work in its field, the new edition of Time Charters provides a comprehensive treatment of the law of time charters, accessible alike to shipowners, charterers, P&I Clubs and other insurers, and shipping lawyers. It provides full coverage of both English and American law, updated for important decisions since the previous edition.
Upon Michael Wilford's retirement from Time Charters after five editions, Terence Coghlin has been joined by Andrew Baker and Julian Kenny, London barristers in leading shipping law chambers at 20 Essex Street.
The new author team has taken the opportunity to rebalance and refresh the English law text. In New York, John Kimball has brought the American law sections up to date and incorporated changes in the law based on court decisions and published arbitration awards.
The new edition remains loyal to Michael Wilford's vision that it should be easy to use for busy shipowners, charterers and brokers, as well as a reference work for lawyers practising in the field. The 6th edition continues to present complex issues simply and clearly, with a flowing text free of footnotes and good use of case summaries.
The new text incorporates numerous decisions in the field handed down in the five years since the previous edition, including:-
English Law:
Golden Victory (H.L.) (early redelivery damages)
Achilleas (C.A.) (late redelivery damages)
Livanita (Comm.Ct.) & Archimidis (C.A.) (unsafe ports - named ports)
Elli & Frixos (Comm.Ct.) (due diligence and ship modifications)
Lauritzencool v. Lady Navigation (C.A.) (injunctions to prevent withdrawal)
American Law;
DG Harmony (dangerous cargo)
Aqua Stoli Shipping v. Gardner Smith (Rule B Maritime Attachments)
Norwegian Bulk Transport v. International Marine Terminals (nature of a time charter)
Hall Street Associates v. Mattell (vacating arbitration awards)
Stolt-Neilsen v. Celanese Chemicals Europe (power of arbitrators to compel testimony)