Property Notices: Validity and Service 2nd ed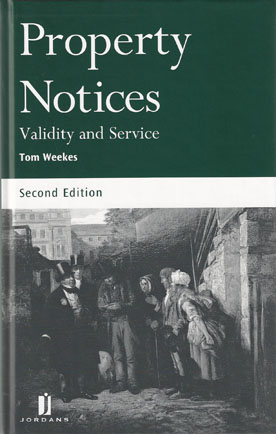 ISBN13: 9781846612923
Published: August 2011
Publisher: LexisNexis Butterworths
Country of Publication: UK
Format: Hardback
Price: Out of print

Notices play a prominent role in every property lawyer's practice. A client's legal rights will often be exercised by the service of a notice (eg by the service of a notice to quit, a break notice, a rent review notice a leasehold enfranchisement notice, a notice to complete, a notice exercising an option, or a 'section 25 notice' determining a business tenancy).
The invalidity of a notice, or a failure to effect service of a notice, can have disastrous consequences: for example, a right to break a lease, or an entitlement to challenge a proposed new rent or a premium payable, might be irrevocably lost. Moreover, an invalid notice will frequently imply a negligent lawyer.
Yet the principles determining the validity of notices, and the rules governing service, are poorly understood. Property Notices: Validity and Service 2nd ed provides the definitive account of this important area of law.
This new edition has been extensively revised and updated and now includes commentary on:-
the principles relating to the waiver of defects in notices;
the rule that a consensual "withdrawal" of a notice to quit or break notice creates a new tenancy;
the law relating to the computation of time for the service of a notice; and
the service of notices under ss 17-18 of the Law of Property (Miscellaneous Provisions) Act 1994.
Property Notices: Validity and Service is the only work dedicated to this core area of practice and will be essential reading for all property lawyers.