Local Authority Liability 5th ed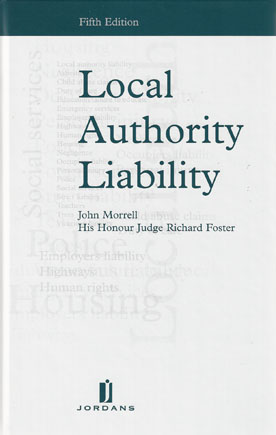 ISBN13: 9781846613210
Published: March 2012
Publisher: LexisNexis Butterworths
Country of Publication: UK
Format: Hardback
Price: Out of print

This well-established and popular work provides a comprehensive survey of the legal liabilities of local authorities, written by a team of specialists in local authority liability claims.
It comprises an invaluable overview of the nature and extent of the liability of local authorities, together with specialist chapters on the core areas of activity including education, social services, occupier's liability, employer's liability, highways, environmental damage and trees.
This new edition has been extensively revised and updated to take account of the latest developments including:-
Latest cases on general duties owed by Local Authorities including Mitchell v Glasgow, X & Y v Houslow, VL v Oxfordshire and Glaister v Appleby
The development in the law relating to child abuse claims, particularly limitation latest judicial attitude to the liability of teachers and local authorities when supervising children in cases such as Orchard v Lee, Webster v Ridgway and Palmer v Cornwall County Council
The Human Rights Act 1998 in failure to educate claims, A v Essex County Council
Claims under the Occupiers Liability Acts 1957 and 1984 and the impact of 'socially desirable activities' on the test for breach of duty, including Harvey v Plymouth County Council, The Scout Association v Barnes and Uren v Corporate Leisure (UK) Limited
Court of Appeal cases dealing with the duty to maintain and statutory defence under sections 41 and 58 of the Highways Act 1980, including Russell v West Sussex County Council and Esdale v Dover County Council and Wilkinson v York County Council
Liability for trees including Micklewright v Surrey County Council and Bowen v National Trust
Local Authority Liability
is essential reading for all lawyers dealing with general common law and public sector claims, local authority risk managers and insurance industry professionals dealing with the public sector.