APIL Guide to RTA Liability 2nd ed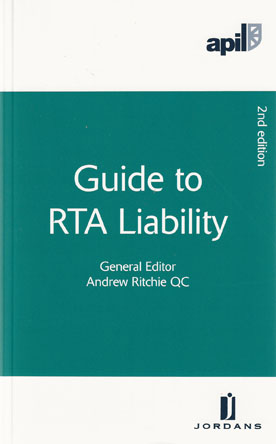 ISBN13: 9781846613234
Published: March 2012
Publisher: LexisNexis Butterworths
Country of Publication: UK
Format: Paperback
Price: Out of print

APIL Guide to RTA Liability, now in its second edition, is written by a team of specialist PI lawyers and provides detailed practical guidance on every aspect of this core area of PI practice.
The work is broken down into 26 accessible chapters, each focusing on a particular aspect of RTA liability and includes. It includes coverage of the liability of each participant; the particular rules that apply to local authorities, children and schools, public service vehicles, etc; the liability of cyclists and motor cyclists; the specific rules that apply in a range of different circumstances such as low velocity crashes, accidents abroad, etc; and practical guidance on the liability of insures and the MIB.
This new edition has been thoroughly updated and includes coverage of developments in law and practice, including:-
Claims made in the UK arising from foreign accidents
New EC directive consolidating all old RTA Directives
Pedestrians run down when drunk
Failure to wear a seat belt.
What is a motor vehicle? Trail bikes and electric trikes
As well as a new section containing draft model pleadings
APIL Guide to RTA Liability
is an indispensable book for all PI practitioners.