Fiduciary Duties: Directors and Employees 2nd ed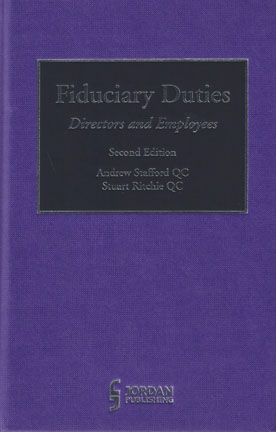 ISBN13: 9781846615580
Published: March 2015
Publisher: Lexis Nexis P
Country of Publication: UK
Format: Hardback
Special Offer: £168.29
(Usual price £197.99)
The law relating to the fiduciary duties owed by directors and employees to companies is complex and involves several overlapping areas of law. It is, however, a relatively commonplace cause of action; individuals in positions of trust within a company are often tempted to abuse their position in order to steal company secrets, set up in competition, and poach staff and customers.
Fiduciary duties have historically defied easy characterisation. This area of law as it relates to directors and employees is developing and complex. Directors and employees of companies acting out of self-interest have generated an increasing number of claims alleging breach of fiduciary duty.
These claims range from conscious impropriety such as stealing company secrets, receiving bribes, acting in competition with the employer, to the grey area of exploitation of company property, information and opportunities, and to the even greyer area of preparations for future competition with the company. Breach of fiduciary duty can be unwitting but expensive.
Fiduciary Duties: Directors and Employees draws together in one volume the law relating to fiduciary duties in this context and analyses both its historical origins and its modern application by the Courts.
The book is aimed at commercial and employment lawyers. It provides a description of the present law and a discussion of the direction in which it might develop.