Disciplinary and Regulatory Proceedings 7th ed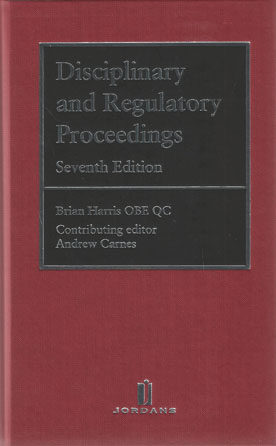 ISBN13: 9781846615795
Published: February 2013
Publisher: LexisNexis Butterworths
Country of Publication: UK
Format: Hardback
Price: £105.00
(Second Hand)

Disciplinary and Regulatory Proceedings is the leading work on this important and dynamic area of law, written by leading practitioners in the field with considerable experience of tribunals both as chairmen and lawyers.
It provides an authoritative examination of the general principles that apply to all regulatory and disciplinary tribunals, including coverage of the basis of the tribunal's authority and extent of its jurisdiction, natural justice, human rights, grounds for disciplinary action, investigations, the decision to prosecute, hearings, evidence, appeals, and enforcement. It goes on to examine the specific working of three major professional areas: healthcare, the FSA and legal services.
In addition to this core commentary, guidance on the practical application of the general principles is provided, looking in detail at such issues as the retrospective effect of rule changes, malicious falsehood, data protection and freedom of information, whistle-blowing, and guidance on defending a claim or how to avoid or defuse a claim. The disciplinary arrangements of the most prominent regulators are described in outline in a separate section
WHAT'S NEW?
This edition looks at the new regulatory proposals for financial services, developments in healthcare and the comprehensive reforms in the regulation of legal services by the Legal Services Act 2007 and their likely impact on recent developments in disciplinary proceedings. Among the more significant decisions noted herein are the following:
Remedy UK Ltd, R (on the application of) v General Medical Council on fitness to practice
Mallon v General Medical Council on the meaning of the terms 'misconduct' and 'serious professional misconduct'
Kulkarni v Milton Keynes Hospital NHS Foundation Trust and the right of medical practitioners to be legally represented
Akzo Nobel Chemicals & Akcros Chemicals v Commission & Ors (Competition) concerning the position of employed lawyers generally
R v Rollins in which the court allowed the FSA to prosecute offences beyond that which was allowed by Parliament
The authors maintain a companion website dedicated to regulatory law and will post updates to the book and articles on to the site as developments occur regulatorylaw.co.uk.