Economic Loss 3rd ed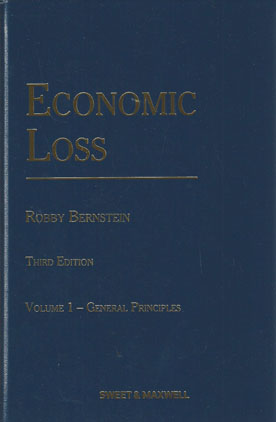 ISBN13: 9781847030290
Published: July 2013
Publisher: Sweet & Maxwell Ltd
Country of Publication: UK
Format: Hardback, 2 Volumes
Price: £646.00

Despatched in 2 to 4 days.
Wildy's Book of the Month: September 2013
This is a book about the common law tort of negligence with special reference to cases of pure economic loss. Robby Bernstein's third edition of Economic Loss sets out, explains and comments on the principles applied by the courts in economic loss cases.
This work sets out, explains and comments on the complex principles applied by the Courts in economic loss cases. It is divided into ten themed chapters, starting with a general introduction describing the main elements of the liability.
It moves on to deal with the broad categories in which questions concerning economic loss and duties of care in tort arise, with an explanation of the case law in each category. The final chapter deals with claims for economic loss where there is a contractual connection between the parties.
Deals with situations in which one person's negligent act or omission causes another person to suffer a loss which is not to his person or his property, and where the relationship between them is usually non-contractual
Sets out and comments on the principles applied by the courts in pure economic loss cases
Covers general themes and alternative approaches before dealing with the broad categories of situations in which questions concerning pure economic loss and duties of care in tort arise
Discusses and analyses virtually all of the significant reported cases on this topic in England and the Commonwealth
Examines the principles applicable to the imposition of, or the refusal to impose, duties of care where the claimant's loss/injury is to his person or to his property; particularly in the field of product liability and in relation to the acts or omissions of statutory authorities
Looks at the complex problem of the effect of the existence of a contract on the outcome of a pure economic loss duty of care claim in tort
Presents General Principles in Volume One and Specific Applications in Volume Two
Deals with very interesting cases, such as: a decomposing snail in a bottle of ginger beer, a Pentium III "ultimate media machine" which was anything but, a night-watchman whose tea was poisoned with arsenic, lobsters that died in a tank before Christmas, a judge who said that there is no difference between a rodent and a gastropod, one and a half dead flies in an unopened dispenser of purified drinking water, an advertising agency whose client failed to pay 'as advertised', a ship that sank after it was certified 'good to go', a tavern that lost business because a boat crashed into a bridge, two dead mice in bottles of ginger beer and a gambler who was banned from buying too many lottery tickets.
Also includes cases of a a compulsive gambler who went to the dogs, an asbestos worker whose pleural plaques were not actionable, an auctioneer who was out-bid by foot and mouth disease, a potato farmer who was devastated by bacterial wilt, a soldier who shot his girlfriend's lover, a house inspector who said "no responsibility", and the Lords who said 'yes responsibility', a couple who lost $30m to a fraudster and almost got their bank to pay for it, an abattoir whose dividing wall was not high enough, an asset-freezing Order that didn't, a factory-owner whose diesel storage tank's tap did not have a lock, a very honest patient with cauda equina syndrome - and much more.
Here you will find the answers to some vexed legal questions like:-
Whether a duty can exist and whether a duty does exist are different kinds of questions, and it seems to me that the law gives different kinds of answers to them. (Lord Clyde in Phelps v Hillingdon London Borough Council [2001] 2 AC 619)
Lack of causation is often used as an explanation as to why the scope of duty is limited, while the converse is not true. (Evans-Lombe J in Barings Plc (In Liquidation) & Anr v Coopers & Lybrand (No.4) [2002] 2 BCLC 364)
It seems to me problematical, with respect, to try to explain remoteness in terms of foreseeability. If anything, it is foreseeability which has to be explained in terms of remoteness. (Sedley LJ in Spencer v Wincanton Holdings Ltd [2010] PIQR P8)
"Unreasonable" is a protean adjective. (Sedley LJ in Spencer v Wincanton Holdings Ltd [2010] PIQR P8)
'Causation' and 'remoteness' are two epithets which describe the same process of legal decision making. (Aikens LJ in Spencer v Wincanton Holdings Ltd [2010] PIQR P8)