Law of Bank Payments 4th ed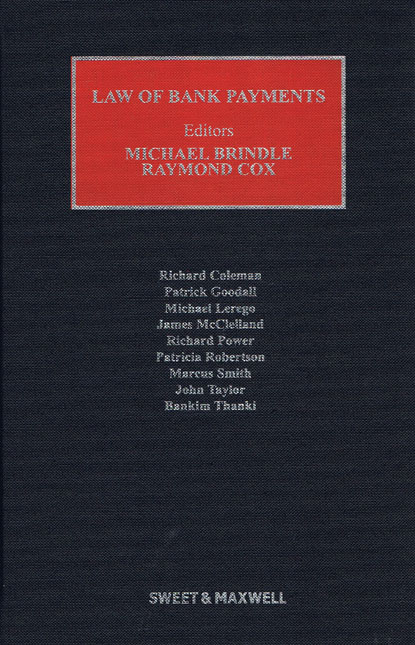 ISBN13: 9781847035516
Published: December 2010
Publisher: Sweet & Maxwell Ltd
Country of Publication: UK
Format: Hardback
Price: Out of print

Law of Bank Payments 4ed provides analysis of the practical and legal problems that arise from the making of payments by and through banks.
It examines the law relating to the entire range of payment methods currently in use in banking transactions, and defines what a payment actually is and looks at money payments.
Considers payment by funds transfer and internet payments;
Covers plastic money: cheque cards, debit cards, credit cards and charge cards;
Deals with bills of exchange, payments by cheque, documentary credits and related transactions;
Covers recent key cases, including those impacting on cheques, recovery of money paid under a mistake and the defences available to the recipient (such as estoppel and change of position), dishonesty in cases of dishonest assistance and knowing receipt of trust moneys;
Examines the new proposed EC Directive on Payments ahead of its implementation in 2010;
Looks at the latest legislative developments, including the Consumer Credit Act 2006, new Banking Code, Money Laundering (Proceeds of Crime Act 2002) and Gambling Act 2005.