Accidents Abroad: International Personal Injury Claims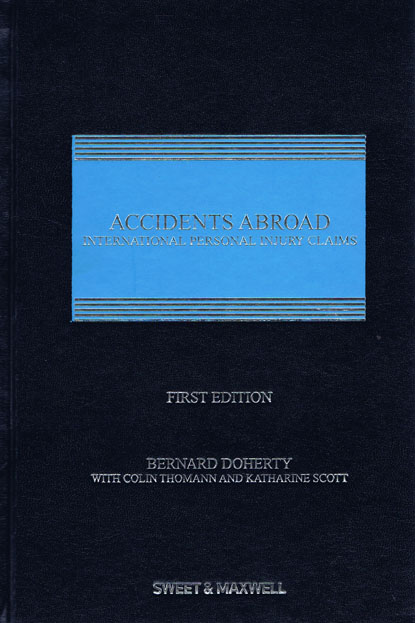 ISBN13: 9781847035592
Published: August 2009
Publisher: Sweet & Maxwell Ltd
Country of Publication: UK
Format: Hardback
Price: Out of print

Accidents Abroad: International Personal Injury Claims applies conflict of laws principles specifically to personal injury claims with an international element, so that practitioners are provided with all the information needed when approaching cases about accidents overseas.
The book presents concise, accurate analysis on this emerging and complex area of law that no practitioner should be without. It comes at a time when new legislation is radically altering the conflict of laws landscape. Rome II will create an entirely new set of rules for choice of law in tort claims from January 2009, and it seems increasingly certain that the United Kingdom will opt in to Rome I which will likewise provide a new set of rules for choice of law in contract.
In addition to detailed coverage of the general principles applicable to personal injury litigation, the book will provide chapter-by-chapter coverage on the special legal regimes governing air, sea, and rail travel, each with its own liability rules and limitation period. Also included are further chapters on cases arising from foreign road traffic accidents and holidays abroad, the most common source of injuries abroad. This essential book highlights the respective conflict rules relating to jurisdiction (whether governed by Brussels I or common law rules) and the law applicable to any given case. It contains specific chapters on limitation, contribution claims, claims arising from death, and the problematic substance/procedure distinction.
Part I covers the jurisdictional issues arising in personal injury litigation, under Brussels I (Regulation 44/2001), the Lugano Convention, and at common law, with a detailed consideration of the grounds on which an English court will accept or reject jurisdiction, whether the claim is in contract or in tort.

Part II deals with the rules applied by the English courts when choosing the law to be applied to a case, including a detailed description both of the existing law and of Rome I and Rome II, European Regulations soon to be applicable in England which will transform English law in the area. There is a detailed consideration of the substance/procedure divide, of key importance to many personal injury cases and the effect of the new law on the traditional English distinctions.

Part III is a guide to the procedural aspects of dealing with claims with an international element, including such topics as service out of the jurisdiction, gathering evidence abroad for use in England and vice versa, proof of foreign law in English courts and the role of security for costs.

Part IV consists of a series of chapters on particular classes of international claims, including road traffic accidents, employers' liability, package holidays, environmental claims, product liability, and accidents on aircraft, ships and trains. The special rules often applicable in such cases, including such issues as shorter limitation periods and caps on damages, are a trap for the unwary.

A glossary is included to help the general reader with the technical terms and Latin names with which conflict of laws abounds.