Government and Information: The Law Relating to Access, Disclosure and Their Regulation 4th ed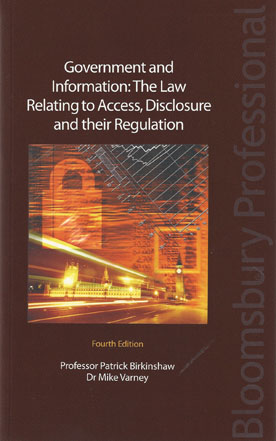 ISBN13: 9781847667083
Published: December 2011
Publisher: Bloomsbury Professional
Country of Publication: UK
Format: Paperback
Price: £100.00

Despatched in 7 to 9 days.
Fully updated and revised since previous edition to include all recent developments in case law and legislation.
Government and Information: The Law relating to Access, Disclosure and their Regulation is a 'must-have' for everyone dealing with public authority information. The fourth edition of this well-respected work offers comprehensive and practical advice on the access, disclosure and retention of government records under UK, EU and ECHR requirements.
Completely updated to include: Detailed examination of the case law that has occurred post the last edition (Information Commissioner, Information Tribunal and courts) under the Freedom of Information Act, Environmental Information Regulations, Data Protection Act and Privacy and Electronic Communications Regulations); Coverage of secrecy, access to information and the war on terror; Analysis of the outcome of the Dacre Review; Revision of legislative, judicial and policy developments affecting the wide range of topics covered by the book under domestic, EU and ECHR decisions including Identity Cards Act, Care Standards Act, Health records, changes affecting Data Protection and jurisprudence. Contents includes: The Freedom of Information legislation Central government The European perspective Local government as providers and keepers of information Restrictions on the use of, and access to, information by public officials and representatives Public access to information and access to meetings Access to personal information and privacy Information and open government - specific areas Information, redress of grievance and judicial review Litigation and information The National Audit Office and the Comptroller and Auditor General