Courting Publicity: Twitter and Television Cameras in Court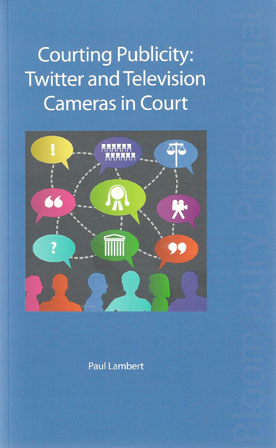 ISBN13: 9781847669001
Published: October 2011
Publisher: Bloomsbury Professional
Country of Publication: UK
Format: Paperback
Price: £75.00

Despatched in 4 to 6 days.
Wildy's Book of the Month: November 2011
Courting Publicity: Twitter and Television Cameras in Court
is a new title dealing with an incredibly topical subject matter that is only likely to increase in interest in the future and lead to new legislation and case law.
It examines the impact on the legal process and those involved, of ever- increasing levels of scrutiny and public attention via new technologies.
To bring structure to these areas of controversy and debate Courting Publicity addresses questions such as:-
Why do legal systems promote Twitter and television cameras in court
Is maximum publicity for every court case and every courtroom participent a requirement for open justice
How appropriate to justice is the role of Twitter in 'super injunctions'
Does the use of media and social media promote public education and confidence in justice
What are the effects of courtroom publicity on the individuals involved and the process in general? Are they beneficial? Are they irreversible or undesirable?
What sort of legislation or self regulatory systems need to be considered to assist the judicial system and to promote legitinate media relationships
Contents includes:-
Courting Publicity
Courts and Twitter Cases
Media Rights v Privacy Rights
The Internet
Twitter in Court: Issues and UK Consultation
Television Cameras in Court
Supreme Court
Other courts
Effects of Television Cameras in Court
Effects of Twitter in Court
Effects of Twitter (and Internet) Outside of Court
The Future